Aurora Newsletter


August 12th 2014
IN THIS ISSUE: Aurora's One Room – One Cable™ platform offers widest range of HDBaseT Wall Plates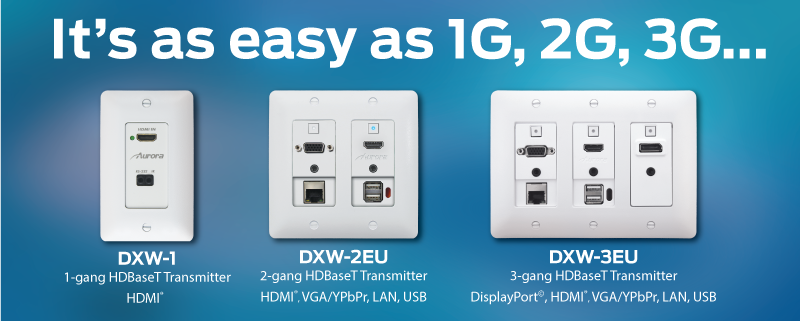 Aurora's One Room – One Cable™ platform offers industry's widest range of HDBaseT Wall Plates
Aurora realizes one size does not fit all – which is why we offer the largest selection of HDBaseT Wall Plates and HDMI Extender kits on the market, including 1-gang, 2-gang and now 3-gang wall plates with VGA, HDMI and DisplayPort inputs over HDBaseT with auto sense switching and more.
Adding to the award winning 2-gang DXW-2 Series of wall plates, Aurora introduces the Single Gang DXW-1 and 4 versions of the DXW-3 three-gang Wall Plate.
The DXW-1 (shipping now in black & white) sends HDMI 230ft and passes IR or RS232 signals over the same CAT cable and offers PoH as well as Aurora's Flex Power™ powering scheme allowing multiple choices for installers.
The DXW-3 (shipping in September) comes in 4 versions ( DXW-3, DXW-3E, DXW-3EU & DXW-3EUH ). All versions offer VGA, HDMI and DisplayPort with Auto switching of sources sensed on connection. DXW-3E adds Ethernet connectivity and can be powered over PoE while the DXW-3EU and DXW-3EUH offer Ethernet and USB 2.0 extension for use with interactive projectors, USB camera's and more.
The DXW-2 and DXW-3 series wall plates also offer auto projector control turning projectors ON/OFF with the push of a button or automatically on signal insertion as well as delayed OFF when no signal is present.
All are offered in kits for easy specifying and ordering.