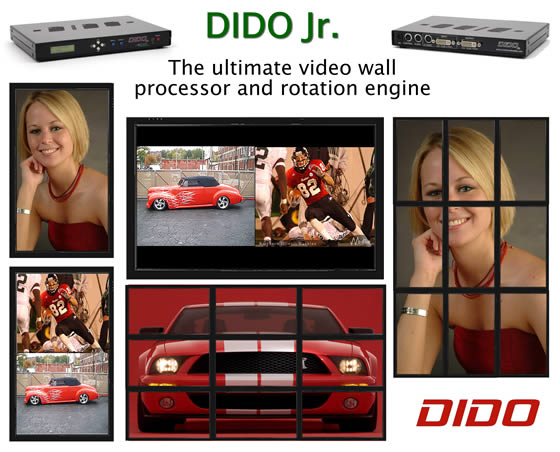 Click here for interactive demonstration
DIDO Jr. is the ideal video wall processor and video image rotation engine. Integrators can design video walls with up to 64 monitors and the monitors can even be mounted in portrait position. DIDO Jr's image quality is visibly superior to much more expensive video wall processors and it gives any integrator the ability to produce a high quality video wall.
On-screen display menus make the DIDO Jr. a breeze to set up. Input and output resolutions are completely customizable to match the displays optimal resolutions. User presets allow for simple manipulation of the video wall. You can easily set it up to go from a single large image shown across all monitors to unique images on several groups of monitor.
Check out our other DIDO variations like the Pro (quad window on single display) and LT (non-rotation videowall processor).
Features:
Several modes of operation including: Side-by-Side (split screen) images, Image Rotation (for digital signage), Translucent Overlays to maximize main image size while still seeing PiP.
Create unique mounting styles (Totem Pole, Jigsaw, Diamond, etc.)
Small size allows mounting behind the display or in rack
Accepts digital and analog video inputs
8.4 x 5.7 x 1.0 inches
Made in the USA
For more information click here.