Aurora Newsletter


September 23rd 2014
IN THIS ISSUE: V-Tune Pro 4K
Aurora Multimedia Introduces Industry First 4K2K Worldwide RF Tuner / IPTV All-In-One Solution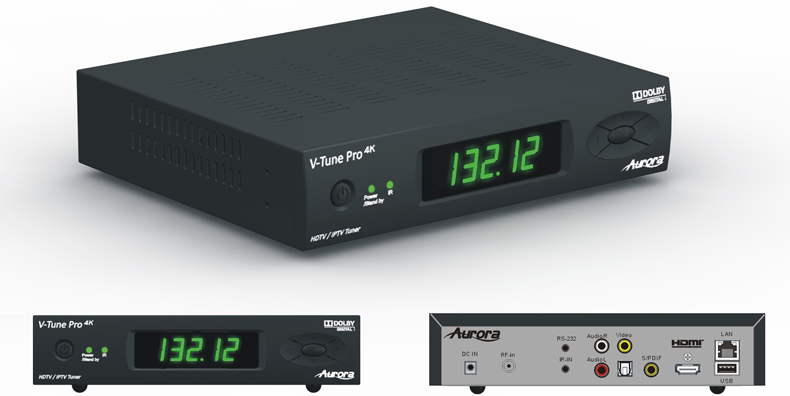 The new V-Tune Pro 4K delivers a total true 4K2K High Definition worldwide tuning solution for any integrated system which requires IPTV, ATSC, QAM, DVB, NTSC & PAL. The tuner is capable of decoding MPEG2, MPEG4, VC-1, H.264, and H.265 with resolutions up to 4096×2160 @ 60Hz via RF and LAN. There is also an onboard 4k scaler for viewing 1080P HD content on 4K displays.

The V-Tune Pro 4K is integrator-friendly with IR, RS-232 and IP-based control. With the ability to program any channel for OTA/Broadcast or streaming content from the LAN, the V-Tune Pro 4K empowers the user to easily switch between content by simply changing channels. Channel/Setup-Configuration is "clone-able" for ease of setup

Pre-Order today. Ships January 2015.
IPTV (UDP/RTP/RTSP Multicast and Unicast)
ATSC/QAM/DVB Worldwide Digital Ultra High Definition Tuning
NTSC & PAL Analog Tuning
H.265, H.264, MPEG 4, MPEG2, and VC-1 up to 4K UHD
Video & HDMI Outputs
Resolutions: 480i, 480p, 720p, 1080i, 1080p, 4K UHD, 4K2K (4096×2160)
Stereo L/R, S/PDIF, and Optical Audio Outputs
Dolby Digital Surround Sound
OSD Menus, Closed Captioning, V-Chip, & EPG
1RU Rack Mount Ears and IR Remote Included
RS-232 / LAN / IR Remote Control
Firmware Upgradeable and Cloning via USB port or LAN
Built in Web Page Remote Control
Mount one or two units in a 1RU space
---